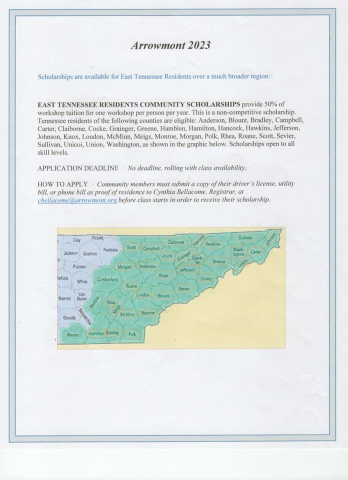 President's Blog Jan. 2023
"There they go, and I must catch them for I am their leader."Ledru-Rollin
And that's sorta how it feels to start this year as the new president of the Smokey Mountain Woodturners.  Our first meeting of the year was well attended with 38 in person and 14 on Zoom and included visitors Dan and Christa Greenlee and Gary Dalby and his grandson. We hope you will join us again.
We thank Drew for his demonstration on turning a natural edge bowl from a log.  Drew stated that his health will not permit him to demonstrate in the future and we will miss his participation as he has brought us many excellent presentations in the past.  I encourage everyone to give green bowl turning a try, it really is fun.
Brian Horias collected the turnings to be displayed at the Emporium during February.   The First Friday Artwalk will be a good opportunity to view the display and other artwork.
It was reported that Arrowmont has extended their long-standing local resident discount from the four counties bordering Sevier county to all east Tennessee counties shown on the attached map.  This discount is a 50% discount on one cource tuition per person per year.  This is a great opportunity as Arrowmont is considered a premier turning studio with beginner to advanced instruction.
The board is researching methods to allow Zoom attendees to participate in the Arrowmont and John C. Campbell drawings.  The use of Paypall or Venmo requires that we register with the state as a nonprofit to use the service without charge.  Before we invest that effort, I want to gauge the interest in participation.  If you would like to use one of these services to buy rafel tickets or to pay dues, please send an email to Andy Milligan andyh.milligan@gmail.com .
The AAW national symposium will be held in Louisville, KY this summer June 1 -June 4.  There is a $40 per person discount available if we register through the chapter.  This discount requires a minimum of 10 attendees from our chapter.  Please let me know as soon as possible if you are planning to go and I will arrange for our registration.  I will contact AAW next week and determine the particulars of qualifying for this offer.
I have faith that this year will bring us opportunities to learn, make new friends, and enjoy our time together.  Keep turning,
Andy Milligan
SMWTS